The Statement Analyzer is software that will analyze a statement and assist you in determining if the subject is being truthful or deceptive. Download the software onto your computer, type or paste a statement into the entry screen, click on the analyze button and the program will analyze the statement for you in a matter of seconds.

Once the statement has been analyzed, certain keywords will be displayed in the "Keywords Found" box. Clicking on these keywords will cause them to be highlighted in the statement. A description of why this word was flagged will appear in the "Keyword Description" box. The software will also tell you how many times a key word appears within the statement.

This program is capable of showing you language that indicates deception, sensitive areas within the statement that need to be explored, and areas where the subject may have withheld information. Even if you are an experienced investigator trained in interviewing, the Statement Analyzer will help you. It may identify something that you missed or something you were not familiar with. It will also help you to quickly analyze a lengthy statement.
Screenshot of the program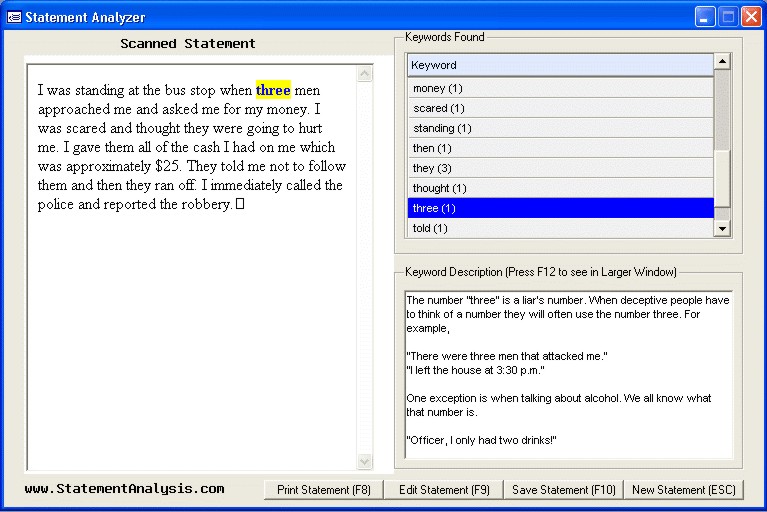 In this statement, there were twelve key words the Statement Analyzer identified.
Seven of these words indicate possible deception.
| | | | |
| --- | --- | --- | --- |
| Required Hard Drive Space: 12 MB | Format: CD-ROM | Updated: 2010 | Runs with all versions of Microsoft |
The Statement Analyzer software costs $35.00.
Click here to order

Send us an email if you would like to
purchase multiple copies at a discounted rate.
We recently partnered with LeadsOnline the nation's largest online investigation system.



If you are a member of LeadsOnline,
you can assess the Statement Analyzer for free on their website.
"During my investigation, I was talking to LeadsOnline, and I learned about Mark McClish's Statement Analyzer that will automatically
analyze a statement to reveal deceptive statements. I tried it on a statement from my suspect and when I went back with that intel I
asked more questions and got a confession. He not only confessed to the case I was working on, but he also confessed to several other
unsolved burglaries. Thanks so much, the victims are very thankful. It's so good to see a victim smile when you recover their property."

Det. Cornell Wiley
Fort Wayne Police Department, IN